Feature Enhancement Request
There are some domains that I never allow. It would be valuable to offer users the ability to hide "always-blocked" domains from the blocked list. These domain get in the way and clutter up the list. These domains could be hidden in an expandable menu below the blocked list. If the user needed to allow all, the collapsed menu would expand before the user was allowed to enable all. The structure could look something like this: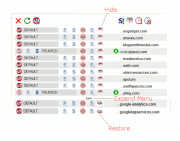 Thanks for your consideration.